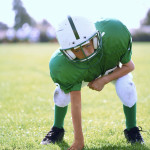 On Saturday, July 12, 2014, Daly City P.A.L. and Sport Tech Inc. Stars Football  hosted a free skills football camp and BBQ for children ages 6-13 at Westmoor High. The camp was designed for children who were interested in receiving football instruction from experienced High School coaches and players, as well as former N.C.A.A. athletes. This lucky bunch had the chance to develop football skills for the upcoming Youth Flag and Tackle season. They learned proper techniques of football and at the same time learned how to build with others in the community.
A special THANK YOU to all of our volunteers!
And CONGRATULATIONS to all the participants on a job well done!!
For additional information, please contact:
Imani Stewart
Phone Number: 1-888-415-0512     Email: Sporttechplayer@Yahoo.com